Current reflections by individuals from creativity sessions via Zoom
Seeking Peace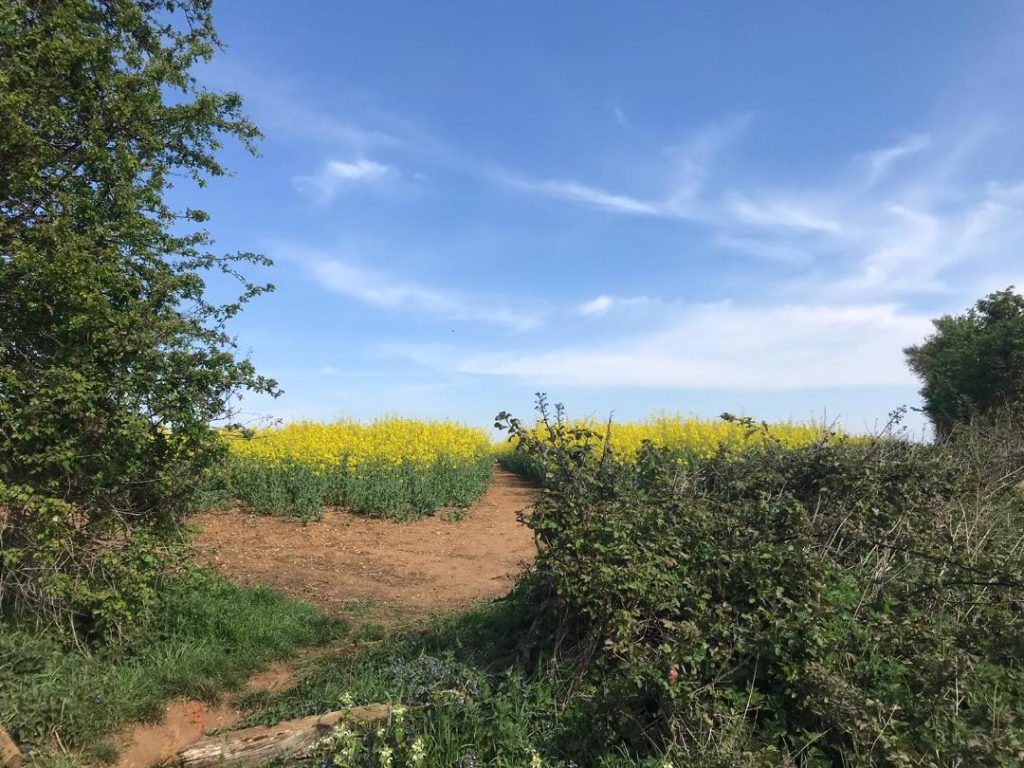 Hold me so my feet don't feel the bumpy road.
Allow me to find You where You once reached, and certainty flowed.
Bring me to that place of steadfast trust.
Where I can count my blessings in this life's adjust.
You are the One who cures my fears when all seems
blurry and rejoices over me despite me being unworthy.
You are the only unshakable rock as I try to steady my being.
Help me find Your peace that's ever freeing.
Catherine
---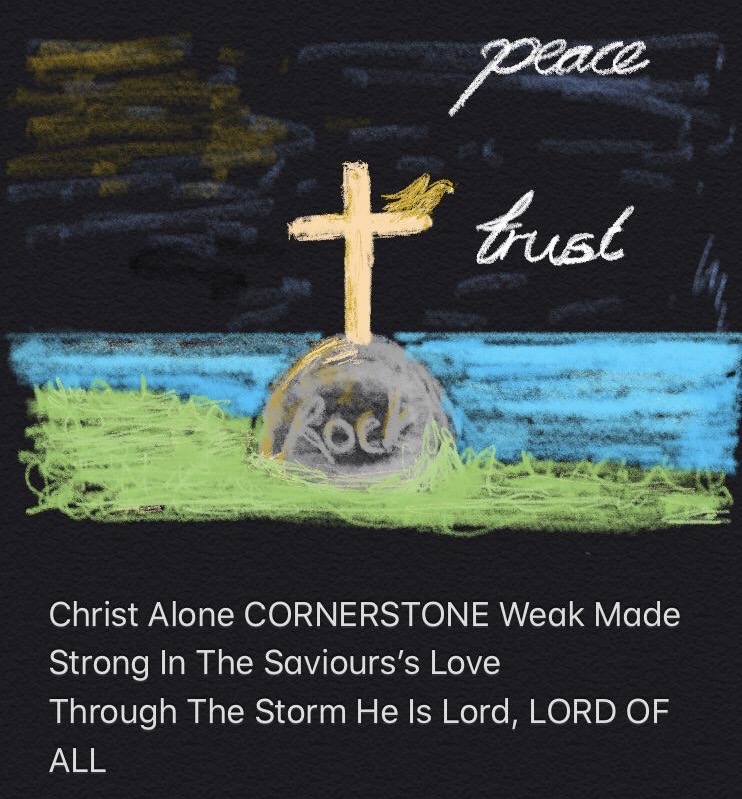 Matt
---
Peace Colouring
"I felt very restless in my spirit this past week and the creativity session was perfect for me to be filled with peace again. God gave me different verses for different aspects of my colouring in: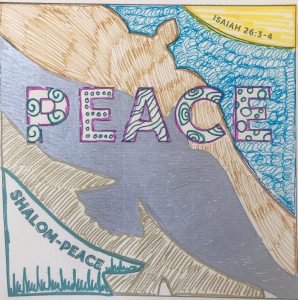 Isaiah 9:6, Isaiah 40:30-31, Psalm 23:2, Psalm 36:5.
"The big grey bird represents God/Jesus. The brown birds under the grey bird represents me/us. Jesus holds us under His wings and is protecting us. The sunshine reminds me that He is the light of the world and His love is like the sunshine-always there and everywhere!"
Anke
---
Spring Unwound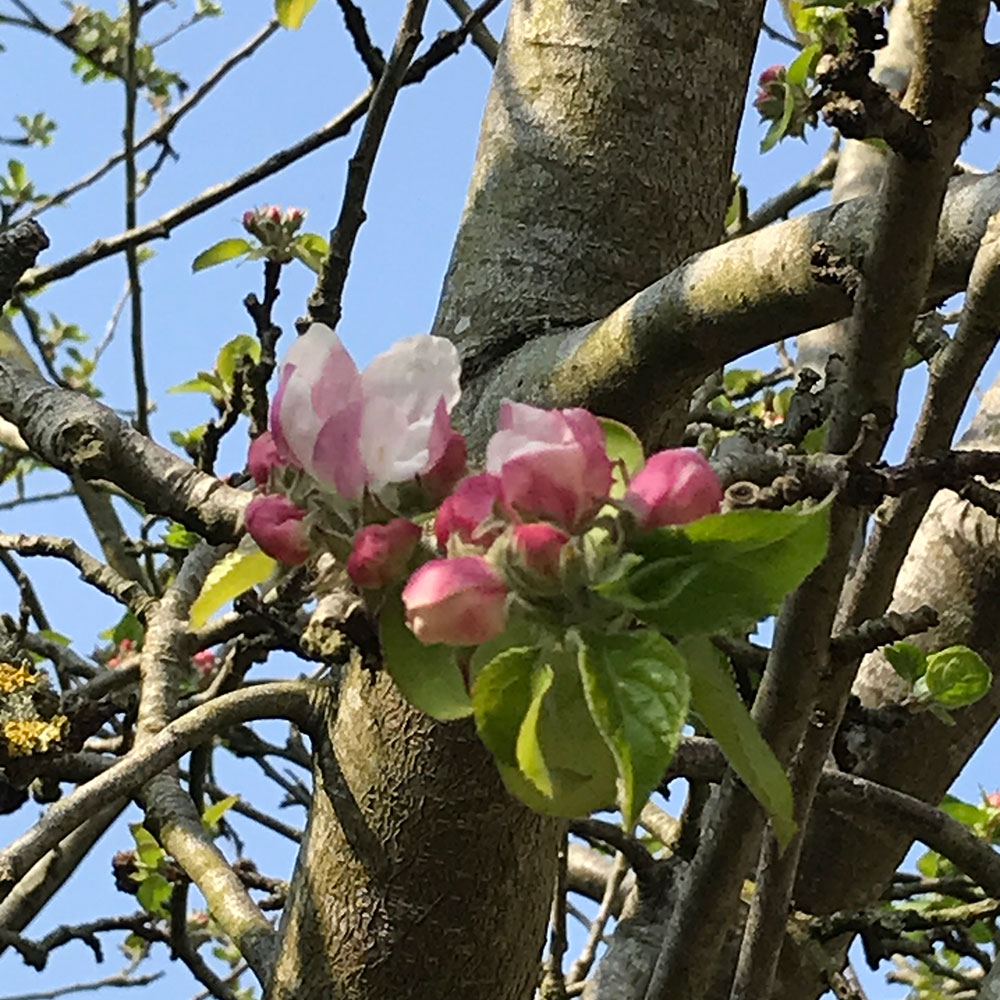 Slow down, look around
Take time to see – shades of green,
Yellows, reds, myriad hues,
Trees, flowers, skies so blue
Slow down, look around
Take time to feel – soft, warm breeze,
Sun's welcome heat, sheep's winter fleece,
Hope rising, new possibilities
Slow down, look around,
Take time to hear – dawn blackbird's song,
Field skylark's shrill, lamb's plaintiff call,
Stream's babbling thrill
Slow down, look around,
Take time to see,
Take time to feel,
Take time to hear,
Take time to live
Chris
---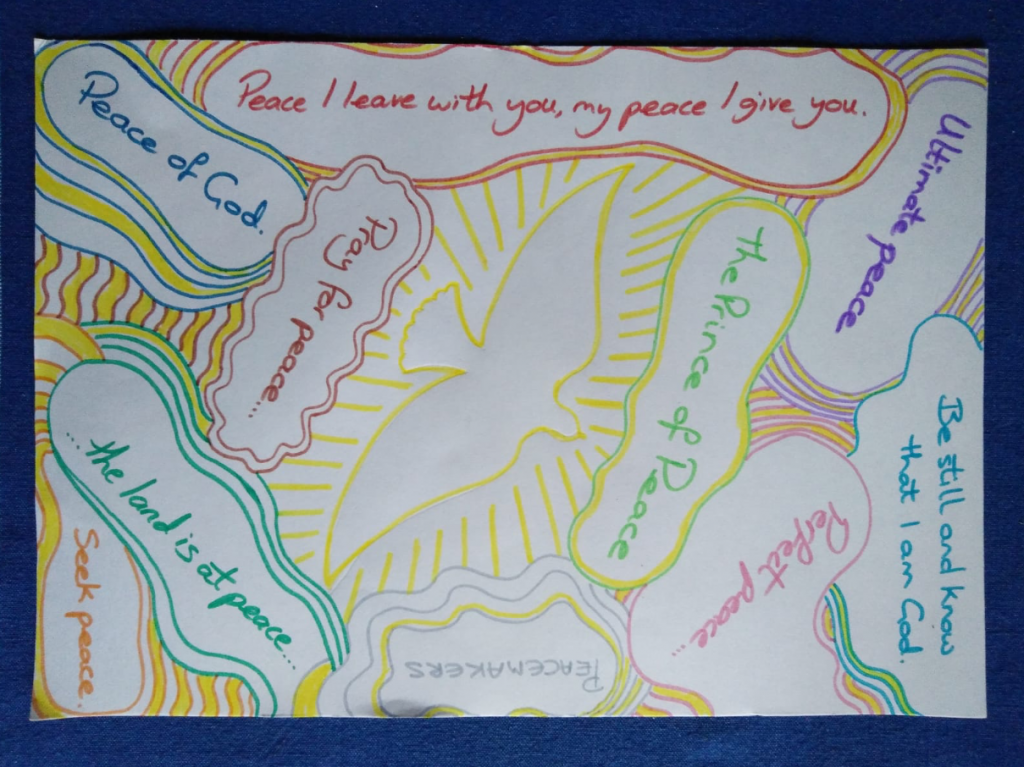 "God was telling me He IS peace, the Prince of Peace. He fills the gap, in my picture AND more importantly in my life in this crazy world."
Helen
---
Waiting on you Lord
Squinting in fear. Your light seems muffled in the distance
Like shooting stars, beams of light start to appear
Compassion – Love – Healing – Forgiveness
Light after light pierce the darkness.
Sally
---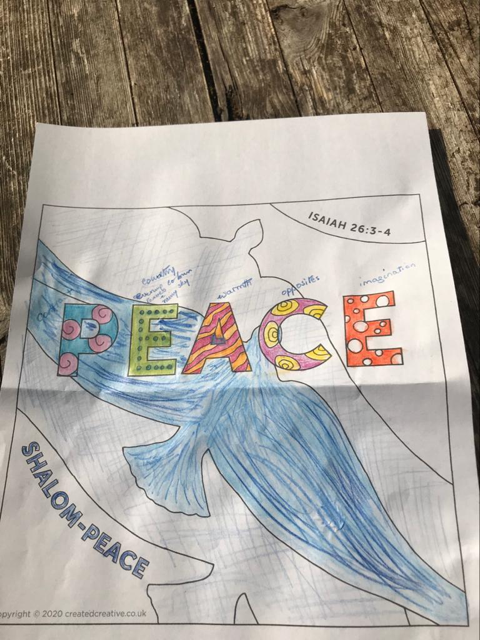 Valerie
---
My God
You are the Prince of Peace
You are my salvation
In this time of uncertainty
You are in the midst of everything
You are my peace
You are in control
Nothing takes You by surprise
You long for mankind to come to You
Your arms are open wide
To welcome back your sons and daughters
When will You come?
What are You waiting for?
Sophie
---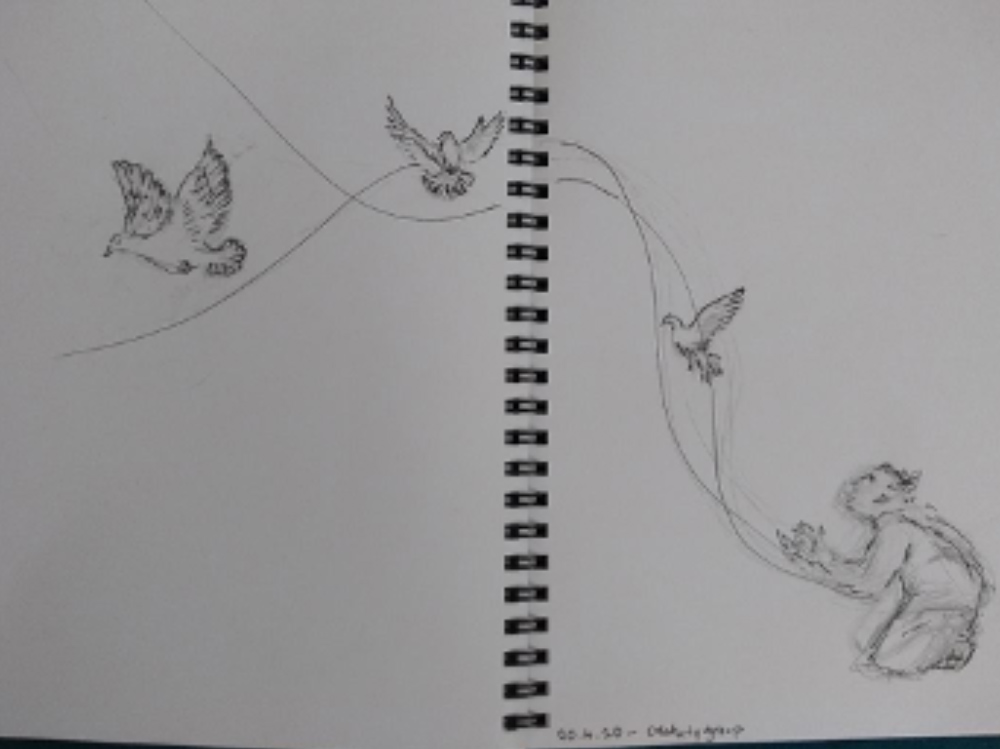 I felt this drawing was about letting go and getting peace. Sometimes you have to give up, something good, to get something better. Romans 12:1 springs to mind.
Amanda
---
Other reflections by individuals from creativity times
Love
You all know that I'm an emotional bunny,
Sometimes silent, sometimes funny,
But always in awe of the wisdom I find
Here, every Friday; Love IS so kind.
The years have passed, some quick, some slow,
But of one thing I'm sure that now I know,
The love in this room is amazingly strong.
It is love that guides our way along.
Every week we commit to listen, to pray,
To receive God's love, new every day.
His love guides us to change and grow,
True love, peace and patience is here I know.
So, my lovely ladies, I thank you so much.
You have shown me God's love through human touch.
Unconditional, challenging, encouraging too,
Love IS Friday mornings, and for that I thank You!
Written in an hour on St Valentine's Day following a creativity session.
Helen
---
Stillness Focussed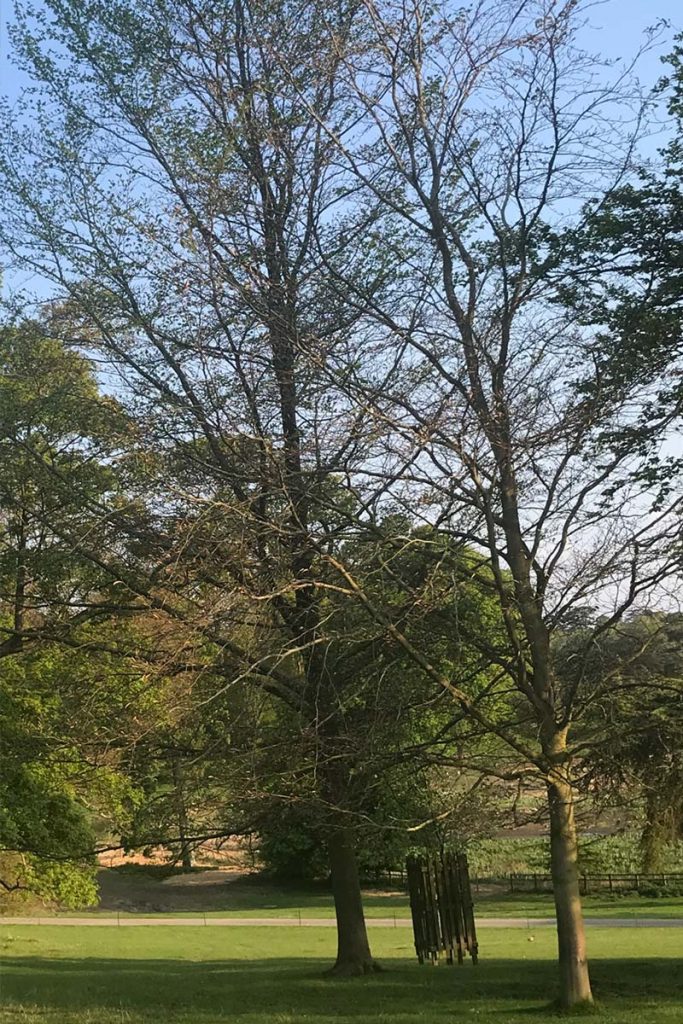 Just as the tall, silent tree
waits patiently and expectantly,
for the first light of dawn,
in the peace of early morning,
so, must we wait, faithfully,
in focussed silence,
for the presence of the Spirit.
Then the joyfully anticipated moment arrives.
Leaves, then branches, are bathed in golden light,
green, flame-transformed, like Moses' Burning Bush.
The Spirit touches, subtly,
gently lifting consciousness to a different realm
of ecstasy and power.
We, too, like Moses' Burning Bush,
are on fire.
Chris
---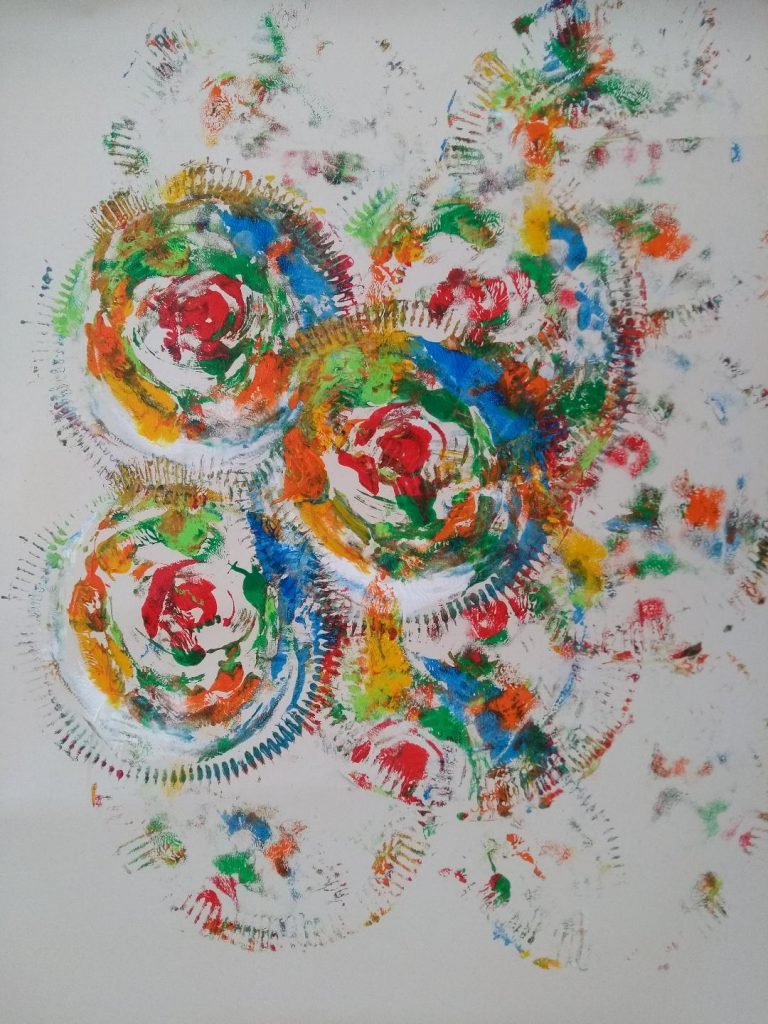 The verses that went with this picture were Psalm 27: 13,14. "I will see the goodness of the Lord in the land of the living, wait for the Lord; be strong and take heart and wait for the Lord."
Amanda
---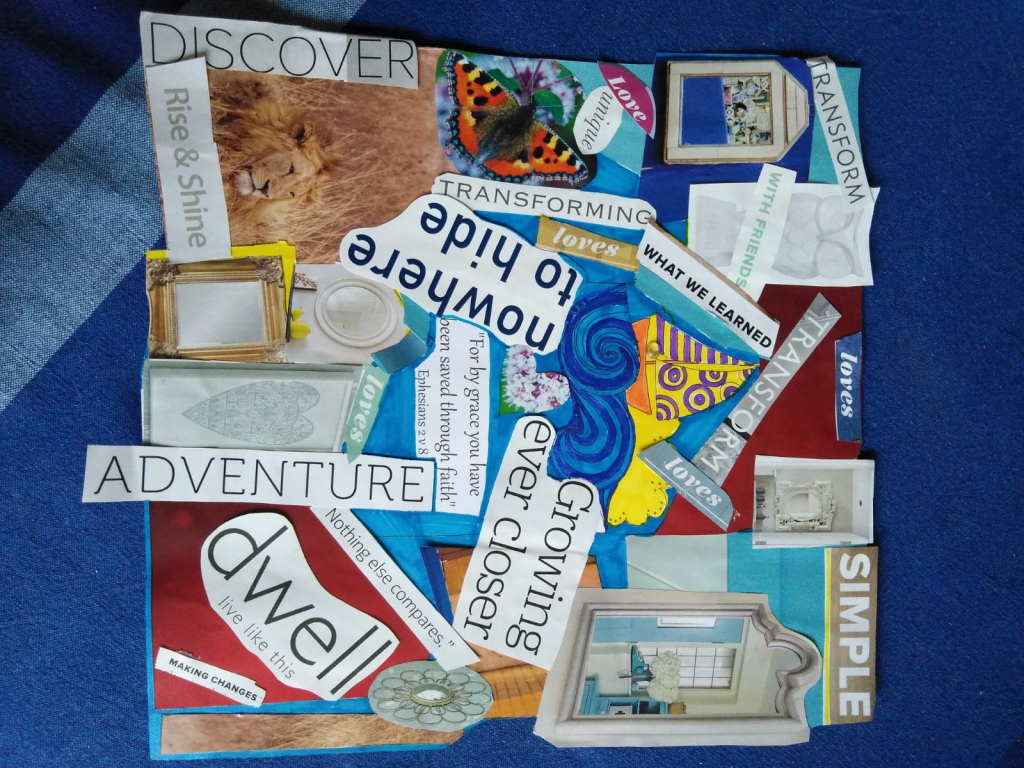 This piece was all about being free to be me, having courage and confidence.
Helen
---
The two pastel pictures are inspired by the passage in Ezekiel 37: 9-14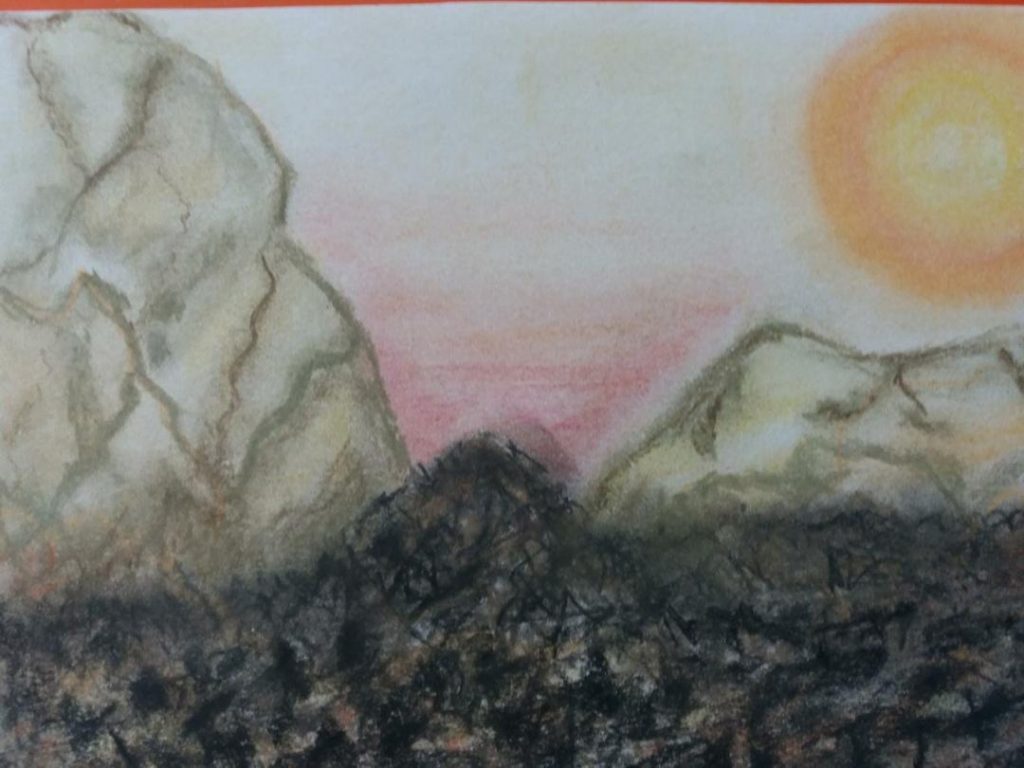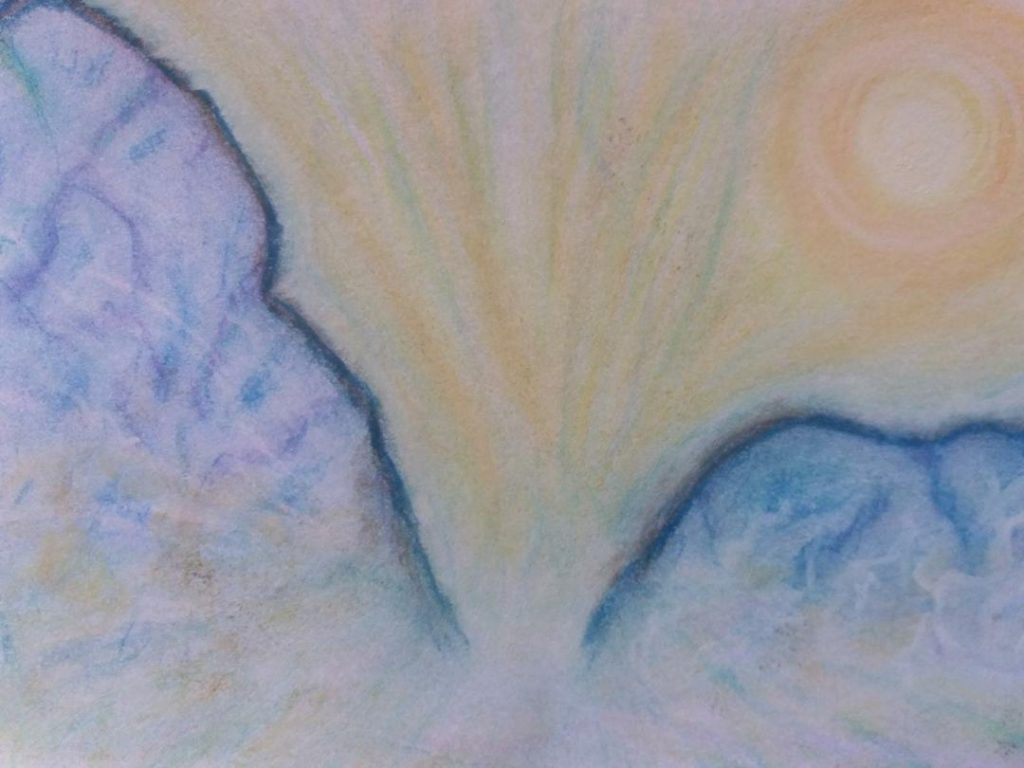 Sally
---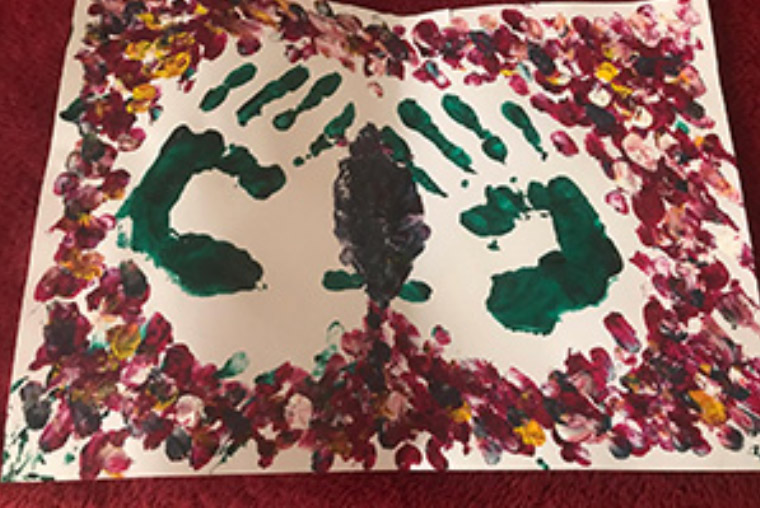 "I painted this which I thought was pretty nice, but the 2 hands I realised meant stay away from the inside of me. The very beautiful coverage around the hands meant beautiful masks. I talked to God and ripped the paper up with Him, no more masks! I invited Jesus inside of me, the place I had protected and kept hidden. Thank you Jesus."
"I learn something new about who God is and how He loves me each time you run a creativity time here. I praise Him for this. Jesus loves me!"
---
Community Heart Handprints Banner
Created at Buckingham Parish Church